Group Juice Review: Rapidly Grow and Monetize Your Facebook Group
Group Juice Review
This method developed by Nate Ryan and Flip Moss is not new. Leveraging the power of social media, groups and building a tribe has been around for a while. But how to actually leverage that authority is something most people get wrong
.
Group Juice Review Summary;
Group Juice teaches you how to actually market and make sales (it can be used with more than just affiliate marketing) as well as content marketing, networking and a lot more. One of the most in depth courses I have reviewed at this price point.(which is stupid low).
Is there anything more exciting than opening your email and seeing a notification of a commission of $500 or more?
That is affiliate marketing for high ticket items.
And it represents the pinnacle of affiliate marketing. Being able to generate these kinds of high ticket affiliate commissions is one of the best things about the affiliate marketing industry.
That might develop into a lucrative affiliate business for you.
Especially if you own the key to closing high-ticket sales.
And that is what Group Juice from Nate Ryan and Flip Moss is all about.
You may start making high ticket affiliate commissions right away with the help of a training course, live weekly calls, and the inner circle network.
What Is Group Juice?
Group Juice is an in-depth training and mastermind style course, aimed at teaching affiliates, new or seasoned, to leverage the power of authority and consulting on social media. Allowing you to build an army of hungry buyers, desperate to buy anything from you.
Well, ok, not quite, but it is designed to teach you how to build up authority and a following. Letting you show people you actually know what you are talking about when it comes to affiliate marketing, as sadly, a lot of people don't.
The training, Q&A's and course are a framework in which you can start to transition yourself from a follower, to a leader. Helping you understand what people are after and diagnosing their problems.
Group Juice is actually split into 2 distinct parts.
The high ticket training program. Packed with;
Videos,

Resources,

Downloads,

Case Studies

Scenarios

Catalogue of Facebook Lives
The Private Mastermind Support group. This includes;
Weekly calls - Q&A's / Examples And Coaching

Ad-hoc Lives with strategies and ideas

Support Threads

Q&A Threads
This Group Juice review is going to be quite in-depth.
Unlike others who have just looked at a sales page or head a thing or two. This is my experience taking the program. All the screenshots and content are my own and from my account inside of Group Juice.
What Is Inside Group Juice?
It's time to get the the nitty gritty of this mastermind/course, and actually look at the substance.
As I have already said, Group Juice is split into 2 main parts. The core training and then the support group or mastermind part of this, so I will split this Group Juice Review up into those key areas.
Group Juice Training
The Group Juice training made up of 8 main modules. With 10 additional bonus modules, and an affiliate training area. Designed to take you from $0 per month, to $10k+ per month, using affiliate marketing.
Module 1 - Intro
This is your intro module, which is not that surprising. This module is made up of a number of videos that cover;
Introducing Nate Ryan and Flip Moss

Explaining the strategy

How to get the most out of Group Juice

The Rules

How to find support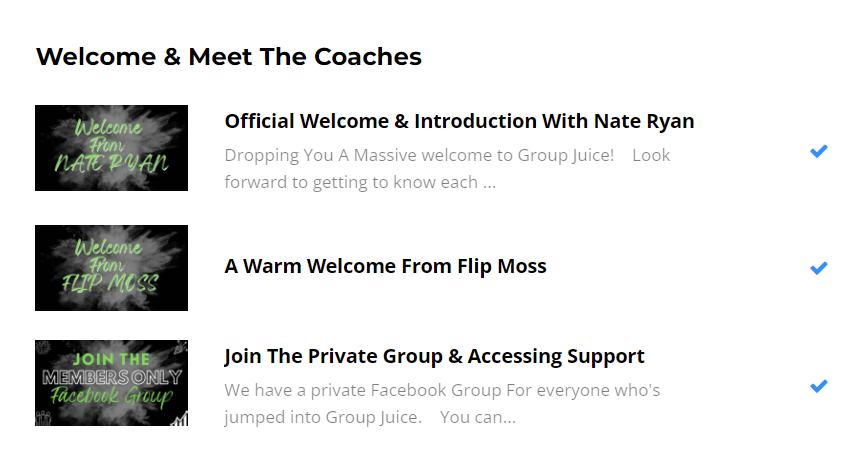 Welcome and meet the program creators
Short Videos introducing the two coaches. Gives a good amount of background ( If you don't already know their story). And an invite to the Private Group Juice Facebook Group. I'll say this their Facebook Group is on fire with some very enthusiastic members. I wasn't expecting so much engagement from the group. A very helpful lot. Nate and Flip are also very active in the group. I liked seeing that.
The 4 Step Process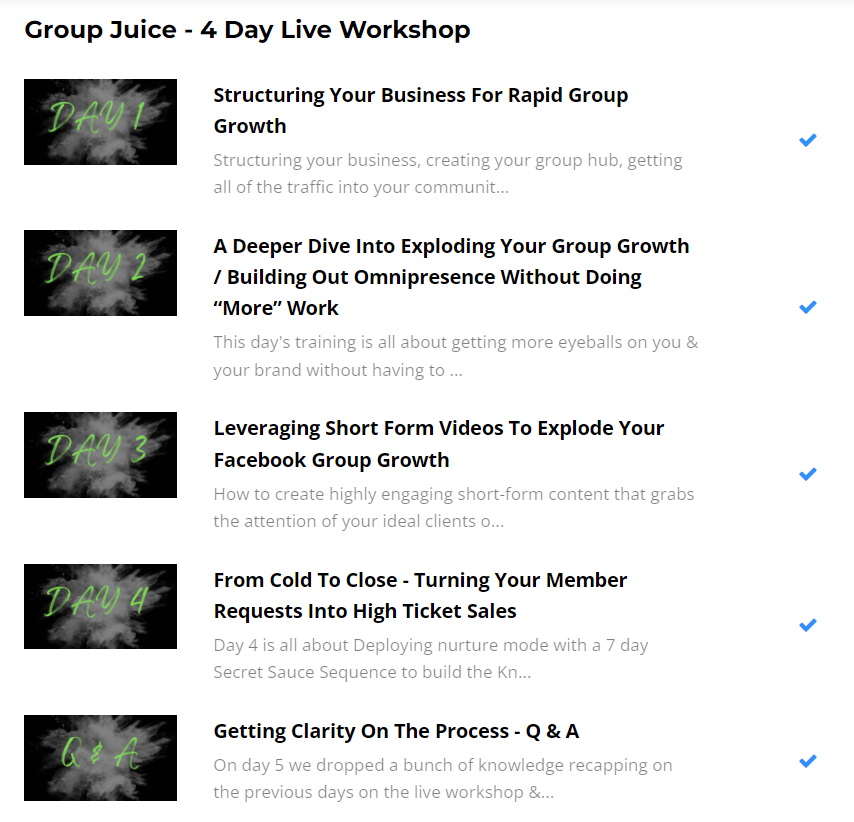 Now that you have laid the proper foundation, Nate and Flip help you build out the proper use of your group. Great Tactics and strategies in this series.
This is the nuts and bolts of Rapidly Growing & Monetizing your Facebook Group.
These are really long videos so print out the handouts, grab some coffee, pen, and paper and be prepared.
All of the information up to these 4 days was extremely helpful to me as a beginner on Facebook but this was the lightbulb moment where I started to put it all together and kick-started my group and my business.
Bonus Trainings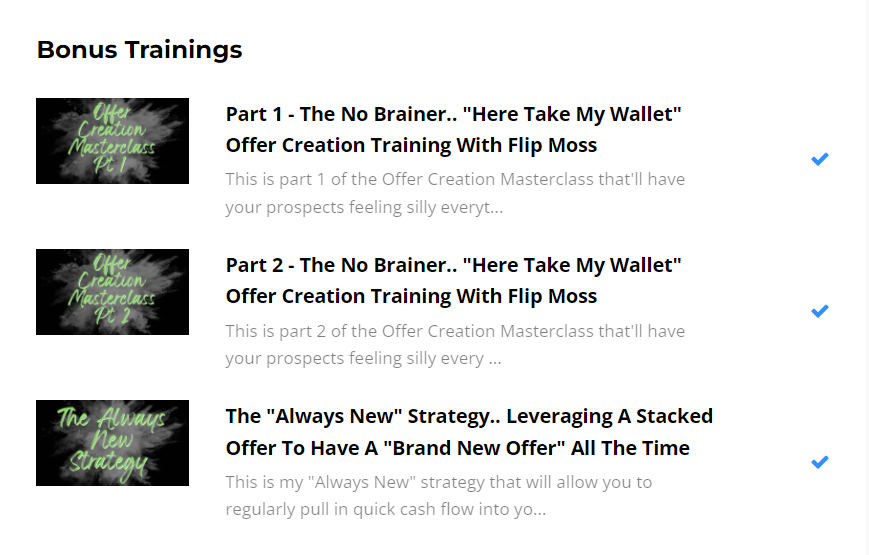 This is an amazing bonus that will help ANYONE with offer creation.
MORE BONUSES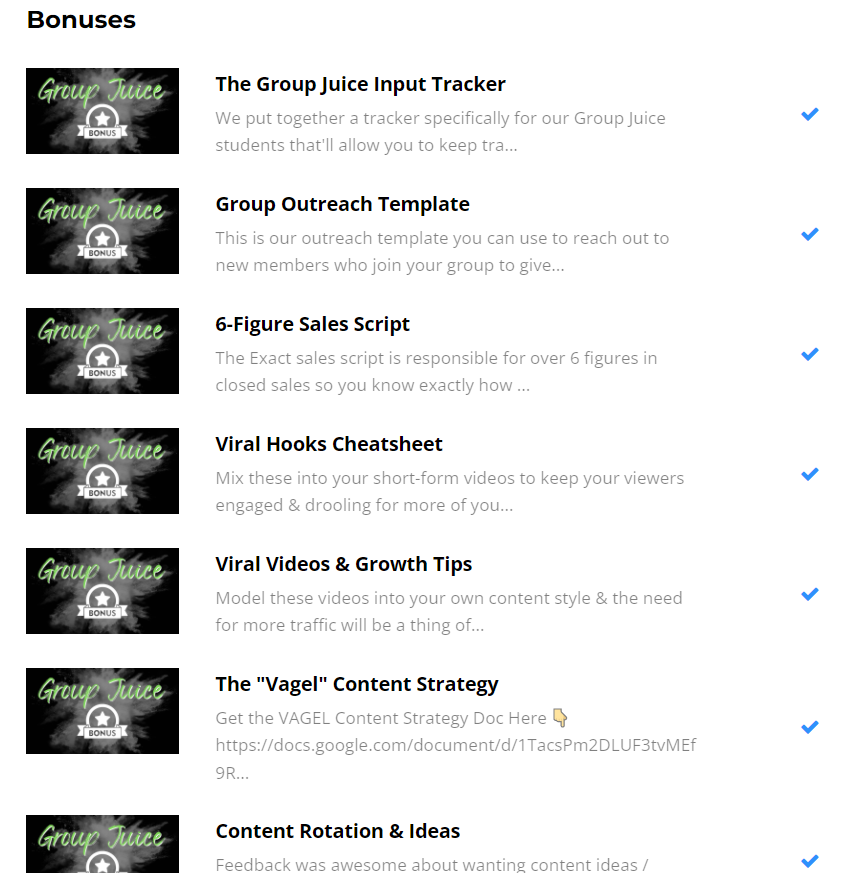 This Bonus Section includes very specific information from Flip Moss on how he runs his affiliate business and includes loads of bonus guides.
Personal Touch

I cannot stress how important this is. If you have ever taken a course or program online you know that you rarely get access to the course creators. I think this is one of the most underrated bonuses you get with Group Juice.
Nate and Flip jump into the group for weekly calls to answer any and every question you might have. They seem genuinely determined to see you grow and succeed.
It is very clear the two of them have seen a lot of programs that provide nothing but empty promises because the time and attention to detail put into Group Juice is meant to over-deliver.
And for the price of only $1000 (at the time of right this blog) it certainly does.
If you just want to test drive the process or are very very new to affiliate marketing. Check out my review of Juice Box
Group Juice is there entry level program priced at $100 (should be 10x this price) and may be by the time you read this.